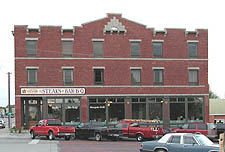 The Moody Building 2002
Cattle Exchange
The Moody Hotel was built in 1910 as the Texas Panhandle's first fireproof hotel. It was renovated in the 1970's during the oil boom to be office space, a coffee shop, and a mini-mall. The building changed hands and the new owner continued to use the second and third floor space for offices, but discovered that no one wanted to lease the empty first-floor spaces. He was also unhappy with the building's facade. He was approached by a young couple with restaurant management experience who wanted to open a steak and barbeque house. The building's owner, the future restaurant owners, and Alley Woodworks developed the design and plans for the Cattle Exchange. Alley Woodworks provided oversight of the renovation of the first floor. We provided the carpentry, most millwork, and the cabinetwork. The red oak doors (some nearly ten feet tall), windows, and booths were site-built. The restaurant seats 130 people and has a mesquite-fueled grill and an outdoor barbeque pit.
The Cattle Exchange was selected by Texas Monthly in its May, 2003 issue as one of the 50 best places to eat barbeque in Texas. The reviewer praised the quality of the barbeque, beans, and bread pudding and also noted "...the 1910 building has been beautifully restored."